INGRAMATIC has many years of experience in the production of machines for the thread rolling of screws and bolts. It started business in 1966 and has since then produced and distributed over 3000 thread rolling machines worldwide becoming a market leader not only in Italy but around the World. In 2006, a new m² plant was built in Castelnuovo Scrivia. This new facility marked a turning point in terms of logistics, organization and efficiency towards meeting new goals and markets.
INGRAMATIC has been part of the SACMA Group since 2004 creating a unique technical, productive and commercial alliance.
The INGRAMATIC Thread Rollers and products complement the SACMA production range and can be used along with progressive headers for the thread rolling of highstrength screws, bolts and special fasteners.
Download the Ingramatic Winning Technologies Overview.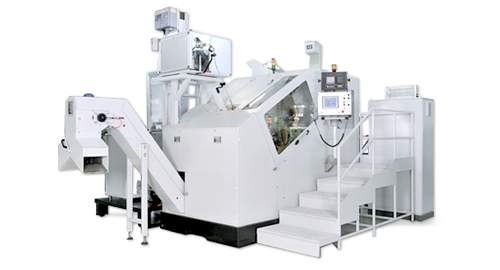 Flexibility in production has become an essential parameter in conquering new markets. It is important to produce highly customized machines according to the customer needs and strategies. Ingramatic presents several solutions, such as: THREAD ROLLING CENTRE; which demonstrates machine flexibility, directly targeting dynamic factories present in different markets with only one production mean, the capability to thread parts after heat treatment, special parts (grooves) and studs.
For this achievement Ingramatic incorporates different feeding systems within the same machine, in order to enable it to produce both bolts and studs. The machine includes both rails and vibratory feeder for screws and a tube device feeding unthreaded studs into the introduction area. For the production of studs, the THREAD Rolling Centre utilizes a feeding system of proven reliability.
The blanks are positioned in front of the starter finger by a tube. A pneumatic separation device ensures the correct part supply into the work area. To ensure the correct orientation of the parts we have two possible solutions:
the optimal solution is the connection of the Thread Roller directly to the Header; transferring the forged part directly to the Thread Rolling machine through the connecting tube.
the second solution involves a vibratory or vertical feeding system, depending upon the length of the parts, with a mechanical selection device incorporating a digital camera.
The system with a digital camera allows the control of individual parts, these parts pass on a conveyor for a control ensuring a reliable orientation. If a part is not correctly orientated, a positioning station corrects its orientation before its introduction into the tube. This device allows high production speeds even if the Thread Roller is not directly connected to the Header. The "P" or "VP" machines allow very high quality production, together with high production speeds. Download Ingramatic Thread Rolling Guide.
The True Solution for Precision, Productivity and Lower Production Cost.
Motorized die match adjustment
Motorized adjustment in height and width of the feeding rails
Motorized adjustment of the vibratory feeder
SC-Matic: Touch Screen panel allows the operator to control the machine and its accessories
Electronic handwheel for slow motion jog and all machine adjustments
Servomotor control for the Single Starter unit
Rejection blade to reject n.c. parts
Quick diameter change with spacers set
Available from W10 to W20: RP320, RP420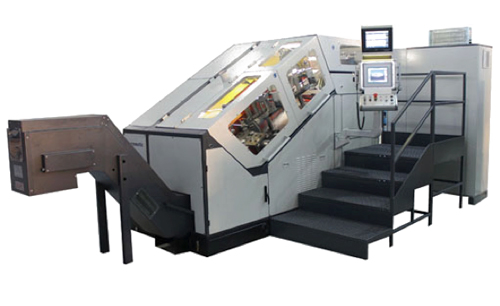 Photo Gallery
CNC Thread rolling machine with single starter unit with double washer assembly unit
Thread Rolling Machine with Double Starter Unit for Bolts Production.
Motorized die match adjustment;
Motorized adjustment in height and width of the feeding rails;
New vertical elevator TL1200;
SC-Matic: Touch Screen panel allows the operator to control the machine and its accessories;
Electronic handwheel for slow motion jog and all machine adjustments;
Servomotor control for the Double Starter unit with self-learning adjustment;
Soft-landing additional finished parts conveyor;
Rejection blade to reject n.c. parts;
Exclusive design and reinforced bed frame;
Quick diameter change with spacers set;
Available from W30 to W60 : RP520, RP720, RP620, RP820.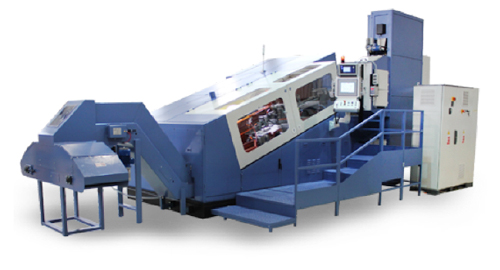 THE NEW QTC WASHER ASSEMBLY UNIT ON ITS I-THREAD ROLLING MACHINES.
INGRAMATIC is a first class company for designing and manufacturing thread rolling machines with washer assembly units. After the New Motorized Die match and the New Introduction System with single or double starter units activated by servomotors, the R&D introduces a unique solution for parts needed to be assembled with one or two washers. Ingramatic equips its machines with extremely compact and flexible assembly units. Without compromising thread rolling machine's reliability and productivity, these devices can be used to assembly different types of washers (flat, chamfered, conical, waved, toothed, split, etc.) with a wide range of blank diameters and lengths.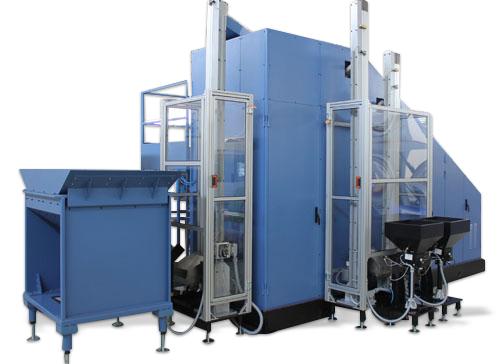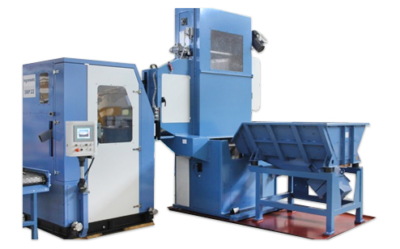 Many screws or bolts require a chamfer or a point shape before thread rolling. There are many different types of points that can be made easily and at low cost by cutting rather than using complex and more expensive forming tooling.
The INGRAMATIC pointing unit spindle is mounted on a motorized slide so that it can easily be set on the correct position for the different lengths of blanks. This position can be memorized to speed up set up times. The blank is first placed between two fingers which clamp the part and lower it to the pointing tools, where the point is cut. The scraps are ejected with the coolant and collected in a special container where the liquid is filtered and recirculated. According to customer preferences, the pointing unit can be a standalone machine or a work unit integrated with the thread rolling machine to point the parts before thread rolling using the same assembly unit.
Innovative solutions: standalone pointing unit or integrated pointing system. Make your choice…